Tarieven Talenpracticum- & Privélessen
Tarieven (v.a. februari 2022)
| | |
| --- | --- |
| 1 proefles (op afspraak) | Gratis |
| 10 uur talenpracticum | € 175,– |
| 30 uur talenpracticum | € 465,– |
| 40 uur talenpracticum | € 600,– |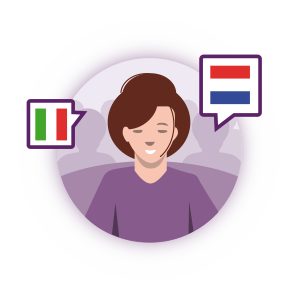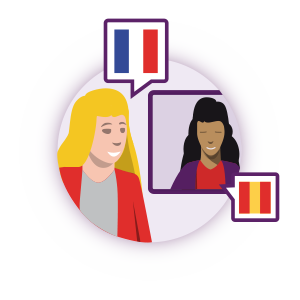 | | |
| --- | --- |
| Proefsessie 25 min. online | Gratis |
| 10 uur online privéles | € 600,– |
| | |
| --- | --- |
| 1 uur privéles (50 min.) | € 75,- |
| 10 uur privéles | € 725,– |
| 20 uur privéles | € 1.400,– |
| 30 uur privéles | € 2.000,– |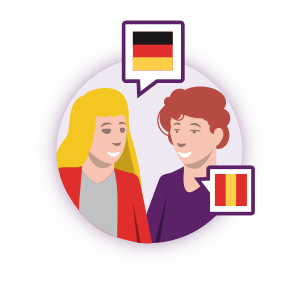 | | |
| --- | --- |
| 30 uur talenpracticum + 30 uur privéles | € 2370,- |
| 20 uur talenpracticum + 20 uur privéles | € 1.650,– |
| 10 uur talenpracticum + 10 uur privéles | € 850,– |
Intensieve spoedcursus van 1 week
| | |
| --- | --- |
| 10 uur talenpracticum + 10 uur privéles | € 840,- |
| 25 uur talenpracticum | € 365,– |
Groepslessen (locatie Koningsplein1-3)
* per persoon per uur
| | |
| --- | --- |
| 2 cursisten | € 50,-* |
| 3 cursisten | € 33,33* |
| 4 cursisten | € 25,-* |
| 5 cursisten | € 20,-* |
| 6 cursisten | € 17,50* |
| | |
| --- | --- |
| Lesmateriaal | € 50,- p.p. |
| Administratiekosten offerte | € 15,- |
Voor alle taal- en computerlessen geldt: 1 lesuur bestaat uit 50 minuten.
Bij cursussen op uw locatie gelden andere tarieven. Tevens berekenen wij op een locatie buiten Amsterdam centrum een reiskostenvergoeding.
Voorbereiding Staatsexamen NT2 (niveau I en II)
Elk niveau is minimaal 30 uur in het practicum.
Wie inschrijft voor meerdere niveaus tegelijk, ontvangt een korting.
€ 465,–
Als er alleen geoefend hoeft te worden ter voorbereiding op het Staatsexamen NT2, zijn speciale combinatiecursussen mogelijk. Na een intake krijg je advies of deze cursussen geschikt voor je zijn.
.
| | |
| --- | --- |
| Een combinatiecursus van 10 uur talenpracticum en 10 uur privéles | € 850,– |
| een combinatiecursus van 20 uur talenpracticum en 10 uur privéles | € 990,– |
1 proefles (op afspraak)
Gratis
Computerlessen (Word I of II, Excel I of II)
20 lessen van 50 min.
€ 345,–
1 privéles van 50 min. (excl. lesmateriaal )
€ 75,–
10 uur privéles
€725,–
Certificaat
€7,50
Contante betaling bij de receptie.
Pinbetaling bij de receptie.
Via de ABNAMRO: NL09ABNA0548861609 t.n.v. het Eerste Nederlandse Talenpracticum te Amsterdam.
Onze lessen zijn vrijgesteld van BTW. Kamer van Koophandel: 58793828.
Betalingen worden niet gerestitueerd.
Privélessen: als u bij verhindering ten minste 48 uur voorafgaand aan de afspraak afzegt, dan wordt de gereserveerde tijd niet in rekening gebracht.
Vraag hier direct een GRATIS proefles aan.
Heb je een vraag of wil je graag teruggebeld worden? Laat dan hieronder je contactgegevens achter.
Adres
Koningsplein 1 - 3e etage
1017 BB Amsterdam
Nederland